Taking a season off
Snowgo has been very quiet lately and it is likely to stay that way for the rest of the season.
I have decided to sacrifice snowboarding this season to try and fulfil a long held ambition, to paddle the Devizes to Westminster Canoe Race. The commitment involved means I will not have time for snowboarding and my blogging energy is currently focused on www.paddlelog.com, where I will be recording my progress.
I'll be back...
My first time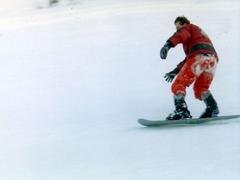 Its ten years since I first set foot on a snowboard!
It was on a ski holiday with some pals to Bormio in Italy. Most of the others had been skiing a few times and persuaded me that I should ski with them rather than spend my time falling over on the bunny slopes. As the end of the holiday approached I was desperate to try a snowboard and cajoled the most adventurous member of the group into joining me for the last day.
We strapped in and headed up the nearest short drag lift (getting the hang of that was half the battle) then we just went for it. We had no instruction but tried to copy the riders we had seen. I was hooked from the first turn.
I spent the rest of the afternoon falling on my head and laughing with delight, meanwhile my friend was struggling with the drag lift and gave up out of caution when he saw me perform a particularly acrobatic head plant (happily he tried again a few years later and has long since given up skiing).
Amazingly, a photo from that very first day survives. Note the ski boots and plate bindings and the 1980s hand-me-down C&A "ski wear"!
17 February 2005
My first time
About this site
This site is a weblog, or blog, dedicated to chronicling my thoughts, ideas and experience as they relate to snowboarding (some of it may also be of interest to skiers).
Unfortunately, for a snowboarder, I live miles from the mountains in London, so a lot of my posts will focus on getting to the snow (hence "Snowgo"). I hope to share some of the neat travel tricks I have picked up over the years to help other unfortunates make the most of any opportunity to spend time in the mountains. I will also be gloating with reports and photos whenever I get back from a trip.
Additionally, you will find the odd kit review and pointers to sites that may be of interest to snowboarders for whatever reason.
4 September 2003
About this site