I love it when a plan comes together
The ski station of La Bresse in the Vosges is nearer to London (758km) than some of the Scottish ski areas, like Glencoe (798km), but (I hope) with much more reliable conditions, both meteorological and financial. With this in mind I have planned a weekend road trip.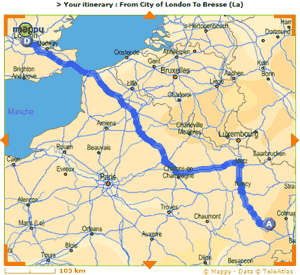 We will drive from London next Friday afternoon catching an early evening Eurotunnel (£123 flexible fare for car and up to 5 people) and hope to cover about two thirds of the distance to La Bresse from Calais before crashing out for a few hours in a Formule 1 motel en route (€25 for a room for 1-3 people). Then its an early start on Saturday morning to get to La Bresse for a full day's riding.
It is French half term so all the hotels in La Bresse, and nearby Gérardmer, were fully booked but with the help of the excellent Mappy we found a bargain Etap hotel half an hour away in Remiremont (€30 for a room for 1-3 people).
We will get an early start on Sunday and leave mid afternoon to head back to Calais with an ETA in London shortly before midnight.
The Vosges may not be the Alps but it should satisfy our snow lust for a weekend and it is a bargain trip that does not require any time off work. Expect a full report in due course.