White Christmas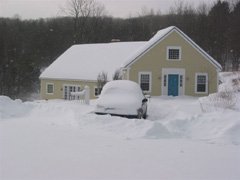 This picture was taken yestreday. It is where I am headed for Christmas and it made me smile when I saw it in my inbox.
At nearby Killington conditions look great and they have this to say on their web site.
**WINTER STORM UPDATE** A major winter storm has brought 3 feet of new natural snow in the past 36 hours and heavy snow continues here on Sunday. With this past week's storm totals now at over 4 FEET of natural snow, we humbly suggest you visit. Soon.
Meanwhile the good early snow in France seems to be melting in unseasonally high temperatures, it must be bad if they have not got enough snow in Val d'Isere.
8 December 2003
White Christmas