Ski show report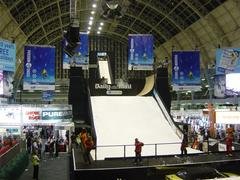 Every few years I go along to The Ski Show and vow never to return. Well its three or four years since my last visit so I had forgotten what a waste of time and money it was and I went along last night.
I timed my visit to take in one of the four daily "Passion 4 Snow" shows on the big air ramp in the centre of the hall. The ramp was quite impressive as you can see but the show itself was lame with only about half a dozen skiers/riders who did two or three jumps each followed by a single inline skater and a pair of BMXers doing some vert stuff.
Looking around the show the stands seemed fewer than I remembered from previous visits with less resorts represented and fewer (none that I could see) freebies being handed out. Snow and Rock and The Snowboard Asylum did have big stores as usual but there was no evidence of any great bargains.
The much hyped Boardroom bar was closed and set to open only at 9:30 after the main show closed.
If you are in London and don't mind shelling out to get in the Ski Show maybe worth a look but I certainly would not travel for it and it always leaves a slightly sour taste to have to pay to have stuff sold to you.
Tickets are £10 on the door or £8 +75p booking fee by calling 08705 90 00 90 in advance (XFM have an offer on whereby quoting "Bflyer" when you book gets you tickets for £6 after 6:00pm on weekdays).
14 October 2004
Ski show report