Val Thorens: 1-3 May 1999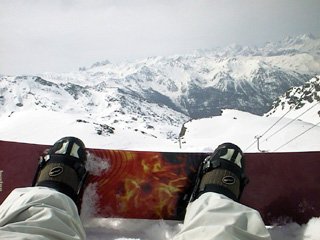 This article was originally published on Snowserve in May 1999.
As the end of the season approached Nick and I decided we needed a last trip to the snow. We figured that the May Day bank holiday weekend was our last chance and some quick research indicated that while many alpine resorts would close on Sunday 2nd May one of our favourites, Val Thorens, which is also the highest in Europe and hence a good bet late in the season, was open until the 7th.

It was a breeze to book an easyJet flight on the Web for just under a 100 quid. The schedule was perfect: fly out Friday evening after work at 7pm and return Tuesday morning before work at 6:40am from Geneva. We rented a car at Geneva airport for UKP80 (we had fun getting four people, four boards, and about eight bags into a Peugeot 306)!
We arrived in a beautiful moonlit Val Thorens at about 1:30 am.
I woke up at 8am on a bank holiday Saturday morning and got straight out of bed.
We wasted no time getting out on the slopes enjoying uncrowded pistes and sunshine until lunchtime when two straglers who had travelled by Eurostar and overnight train from Paris joined us bringing the party to six.
The riding was some of the best I can remember not least because there were six of us snowboarding and in the past I have always been on holidays with groups of skiers.
We stayed in the Val Thorens area and did not venture across to Meribel or Courchevel (where some lifts had already closed for the season). But we did spend some time on a favourite quiet run known as the '4th valley', a lovely long wide red which we carved down as fast as we dared.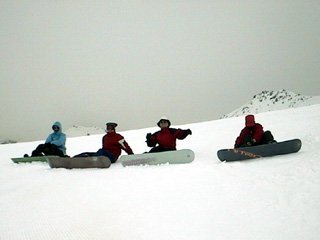 The snowpark at VT is not great at the best of times and unfortunately at the end of the season they seemed to have let it fall into complete disrepair. The pipe was in a rotten state and fenced off but we were able to race each other down the boarderX course where the banked turns were still rideable and even the beginners in the group had a go at the 2 remaining table tops.
Inevitably, we also indulged in that ancient snowboard tradition that whenever two or more riders gather together they sit down across the slope!
As it was the end of the season we were unfortunate in that the cheap hotel we had planned to stay in had already shut down and we ended up staying somewhere a bit pricey. However, the tourist office seemed to have a reasonable selection of cheaper accommodation available
If we do this again it would be worth getting a studio and all kipping down on the floor as accommodation turned out to be by far the most expensiv e component of the trip.

This was a brilliant way to spend the bank holiday weekend. The slopes were quiet, there was loads of snow as we were so high (VT is at 2000m) and the sun shone (about half the time).
It cost about UKP400 all in per person but could have been much cheaper if we had had better info about accommodation. In particular on the way back we drove to Geneva on the Monday night and stayed in an expensive airport hotel to get the early flight home on Tuesday morning only to find that there was a 'Formule 1' motel next door offering a room for three people for FF130.
Oh yes, Colin got onto the Thameslink at Luton Tuesday morning, snowboard under his arm, only to meet his boss in a suit also going to work on the same train!