Tignes - mini trip report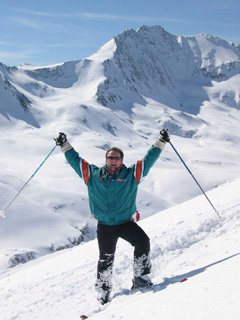 Just got back from a late season long weekend in Tignes so thought I would gloat (I mean report)!
Four of us flew to Geneva Thursday evening and rented a car. We drove to Albertville and stayed in the (very cheap) Formule 1 motel then got up early and drove to Tignes Val Claret, where we rented a 24 m2 studio apartment, cosy for four but cheap at EUR 200 for 3 nights from the helpful English speaking Agence du Glacier. On Monday night we drove back to Geneva again staying in a Formule 1, this time at Ferney Voltaire five minutes drive from the airport. We flew back early this morning.
Overall a very successful trip. Fresh snow on Saturday night really made it (especially as that was the day many people went home) the altitude helped too of course.
Day 1. Friday - we stuck to the Grande Motte: very crowded, hot and slushy below 2,500m and we were all out of shape and exhausted by 3pm.
Day 2. Saturday - stayed high, mainly in the Aiguille Perceť area, and enjoyed very good conditions on empty runs all day, got our ski legs.
Day 3 Sunday - it had snowed over night and after going to bed in a sad brown resort we woke up to a winter wonderland. We headed straight up the Grande Motte where we stayed all day right until the last cable car to the top where we waited for everyone else to go and then had the mountain to ourselves with only the ski patrol sweeping us up. Superb day.
Day 4. Monday - went all the way to the far side of Val d'Isere (Pte du Montet) and back taking in the famous "Face" downhill run (big sugary bumps on the lower part). Then we raced up the funicular and just made the last cable car to the top of the Grande Motte (again) for one last run all the way down to our apartment in Val Claret (1,350m vertical). A bit tired.
I had been to Tignes once before and still rate it very highly. I had not been to Val d'Isere before and although I was impressed with the scope of the ski area it is not very boarder friendly with lots of flat (or often even uphill) green and blue slopes and drag lifts.