Pretty in pink - not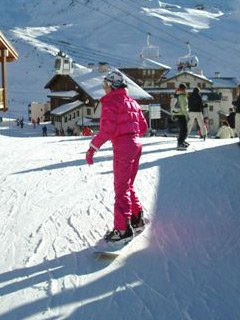 Some skier friends of mine just returned from Val Thorens and took great pleasure in showing me this 'boarder' in a lovely pink one piece.
Initially I was shocked but, on closer inspection and judging by her uncomfortable looking stance, I would guess she was a skier trying a board for the day.
The picture reminded me of the entertaining Romper suited tosser's site which is worth a look if you have not seen it.